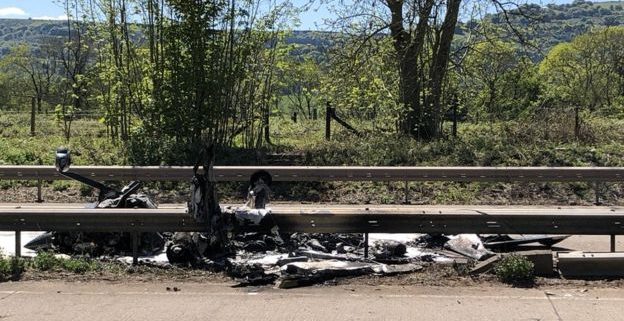 BBC UK
Back in May a light aircraft came down onto the A40 dual carriageway near Abergavenny, Wales. The occupants escaped moments before a fire took hold of the plane. As a result, the concrete carriageway suffered severe damage and required full bay replacement, joint sealing and new road markings.
At LMS Highways we pride ourselves on delivering package works like these which benefit customers with increased accountability, single point of contact and often providing 10-15% savings.
Due to this concrete repair being so urgent the LMS team worked tirelessly to mobilise within just a few days as opposed to the several weeks notice we usually benefit from.
Throughout the night closures the LMS projects team removed all sections of damaged carriageway using our specially developed bucket equipment. Compared to traditional equipment, this is capable of lifting and removing larger slabs of concrete without the need for breaking down in advance.
After prepping the bays with rebar, we used a rapid cure concrete which doesn't require conventional methods of heating to aid the curing process. This enables the team to keep to a time restricted schedule and return a fully open dual carriageway to road users on time at the end of each night.
All joints surrounding the concrete repair were sealed using a mastic jointing material to prevent water ingress and therefore extending the service life of the repair. Lastly the road markings were reinstated along the carriageway using thermoplastic which is hard wearing.
https://lmshighways.co.uk/wp-content/uploads/2019/08/planecrash.jpg
351
624
Harriet Faiers
https://lmshighways.co.uk/wp-content/uploads/2019/04/lms-inline-transparency.png
Harriet Faiers
2019-10-24 15:02:41
2021-02-11 16:05:32
Light Aircraft Incident Destroys Section of A40 - LMS Highways Project Team Provide Urgent Repair Services