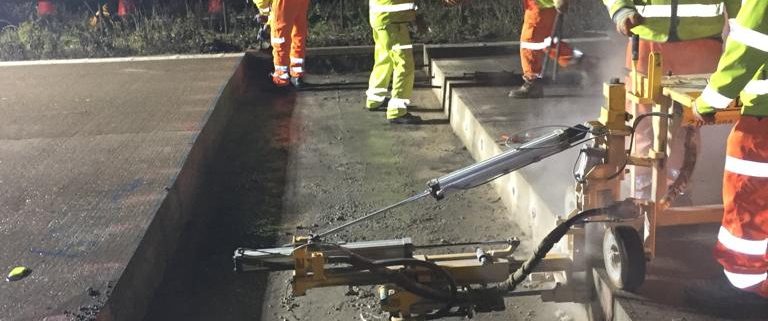 LMS Highways Ltd
M20 Concrete Carriageway Repairs- LMS provide tailor made and cost-effective solutions
With the UK facing Brexit uncertainty, Highways England identified the M20 as a key strategic corridor and gateway to Europe. They turned to A-One+ and LMS Highways to find a cost effective and timely solution to repair deteriorating sections of the existing concrete carriageway.
Having worked with A-One+ before on the M180, M62 and M2, detailed planning by LMS Highways led to a program for the concrete carriageway repairs being agreed. This included days and nights working under both lane and full motorway closures to ensure the works were carried out safely and efficiently whilst minimizing disruption to road users and other stakeholders.
Employing a number of techniques and innovative materials, LMS were able to offer tailor made and cost-effective solutions, adapting to the wide range of site restrictions presented. Most impressively, removing and replacing over 1600 Tonnes of existing concrete bays within a program of 21 day and 64 night shifts and with overnight possessions. Thus enabling LMS to return a fully open carriageway to road users on time every night. To mitigate the environmental impact of new concrete works LMS sourced a local site to recycle the old slabs reducing virgin aggregate usage in foundation works and reducing the CO2 from hauling waste.
In addition, LMS were also able to support the client by carrying out other in-house operations including joint sealing and thin bond repairs. Carrying out pre-works site surveys, LMS were able to ensure the correct treatments were carried out in a timely manner without the need for additional expensive traffic management.
https://lmshighways.co.uk/wp-content/uploads/2019/06/33fd60b9-ac5c-4a78-9b28-a60c102bd91d-e1561634006169.jpg
947
710
Harriet Faiers
https://lmshighways.co.uk/wp-content/uploads/2019/04/lms-inline-transparency.png
Harriet Faiers
2019-07-01 09:42:02
2021-08-05 15:51:45
LMS deliver essential Brexit concrete carriageway repairs